New and improved billing
We've added a new way to manage your billing details, payment methods and review your invoices. You can do all of these in the new Billing Portal.
The Billing Portal is located in the dashboard, under Settings → Subscriptions. For increased security, just like our other subscription management features, the Billing Portal is only accessible to team administrators.

Once you've opened it, you'll see your current subscription status, credit cards, billing information, and invoice history.
In the Payment Methods section, you can manage your saved credit cards. You can also choose which one you're going to pay the next invoice with.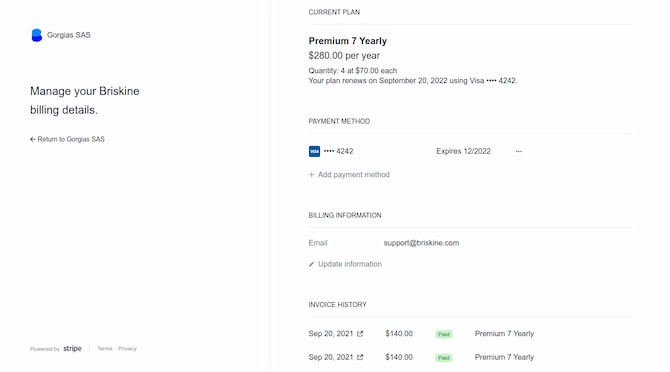 The Billing Information section allows you to edit your billing email, billing address, and tax ID (eg. EU VAT). You can set a different billing email from the one on your Briskine account - if one of your colleagues handles the billing.
In the Invoice History section, you can view your invoice history and download the invoices or receipts.
Thank you for your suggestions so far! Let us know if you'd like more features for subscription management.